music samples

SAMPLES FROM CD BOSSA NA PRESSÃO (Delira Música: October, 2005)
Pianist Haroldo Mauro Jr. with bassist Sergio Barrozo and drummer Duduka da Fonseca.
---

SAMPLES FROM CD BEM BRASILEIRO COM ALGUNS SOTAQUES (Ethos Brasil: June, 2005)
Haroldo Mauro is featured on several tracks of this album from Brazilian composer and percussionist Thiago de Mello with various artists.
---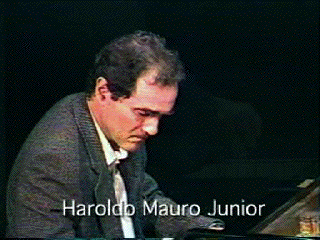 VIDEO SAMPLE FROM THE MILTON BANANA TRIO
Last public appearance of legendary Brazilian drummer Milton Banana before his passing away on May 15th, 1999. Recorded at the Theatro Municipal de Niterói on March 13th of the same year. The concert was part of the series "Quarenta anos de bossa nova" (Forty Years of Bossa Nova). Haroldo Mauro Jr. on piano, Erlon Bueno on bass and Milton Banana on drums.
Watch it with RealPlayer or WindowsMediaPlayer
---
AUDIO SAMPLES FROM A LIVE RECORDING
Haroldo Mauro Jr. Trio live at the Bonaparte Hotel, Brasília, 1994. Alexandre Santos on bass and Erivelton Silva on drumms.
---